MOVEMBER is back and in 2013 Hall Finance & Insurance Solutions is joining Generation Moustache
To make a donation please click on the link below.
https://www.movember.com/au/donate/payment/team_id/1083145
Men's Health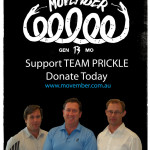 On average, men die at a significantly younger age than women – the average life expectancy for Australian men is almost five years less than women (presently 79.5 compared to 84), however there is no biological reason for this. The reasons for the poor state of men's health in Australia and around the world are numerous and complex.
From Movember's perspective the reasons for the poor state of men's health include:
Lack of awareness and understanding of the health issues men face
Men not openly discussing their health and how they're feeling
Reluctance to take action when men don't feel physical or mentally well
Men engaging in risky activities that threaten their health
Stigmas surrounding mental health
Movember aims to change the face of men's health and reverse this way of thinking by putting a fun twist on this serious issue. Using the moustache as a catalyst, we want to bring about change and give men the opportunity and confidence to learn and talk about their health more openly and take action.