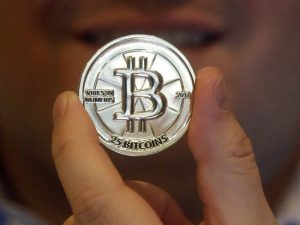 Christine Flatley
(Australian Associated Press)
A financial planner has put his Gold Coast mansion on the market for 500 Bitcoins.
In what is believed to be a first for the city, David Jenkins is selling the luxury Sovereign Islands home – which features four bedrooms, five bathrooms, a cinema and a 10-car garage – for the digital currency, which has jumped in value by more than 500 per cent this year.
At the time of writing, one Bitcoin was worth AUD$12,804, making the listing price the equivalent of more than $6.4 million.
The cash listing price of $5.1 million is a relative bargain.
Mr Jenkins said the Bitcoin currency was "extremely volatile", but that he was hoping to take advantage of its upward trajectory.
"I've been trading the stuff for a little while now and noticed over the last six months a lot of people are actually trading large assets for these things," he told AAP on Tuesday.
"I thought it might be a good opportunity for people who have been holding on to a lot of them from when they were really cheap to offload some and get a house."
The home has been on the market since March but the Bitcoin settlement option has only been available for a couple of days.
He said the value of the house was "moving target", as each Bitcoin had increased in value by $1000 in just the last 24 hours.
"That's the amazing potential of this thing," he said.
"But in a few years it could be worth much, much less."
Disclosure Statement: ClearView Financial Advice Pty Ltd ABN 89 133 593 012 AFSL No. 331367 | Matrix Planning Solutions Limited ABN 45 087 470 200 AFSL & ACL No. 238256. Head Office: Level 14, 20 Bond St, Sydney NSW 2000 General Advice Warning: This information is of a general nature only and has been prepared without taking into account your particular financial needs, circumstances and objectives. While every effort has been made to ensure the accuracy of the information, it is not guaranteed. You should obtain professional advice before acting on the information contained in this publication. You should read the Product Disclosure Statement (PDS) before making a decision about a product.